The Mortgage Centre
Is your mortgage term up? Are you ready for renewal? Read on to find out how to prepare for your mortgage renewal process.
Mortgage renewal is a process almost as important as the mortgage process itself. It can help you find better terms, better rates or simply extend your period for a more comfortable experience. But first, what is mortgage renewal?
When your mortgage term comes to an end, you either would have paid off your mortgage or like most, will be looking to renew your terms. In Canada, lenders provide a renewal statement at least three weeks before your due date.
Should you sign the renewal contract your original lender sent?
NO! Well, at least not immediately. Its always good to browse the menu and see what's out there before you settle on the usual. Studies have shown that many people miss out on good deals because they signed immediately.
What is the correct way to go about the mortgage renewal process?
 Assess your financial situation
 Decide what you need out of the renewal
 Check the penalty costs
 Choose your plan
The first step in the process of mortgage renewal is to know where you stand financially. It could help you determine what you really need right now in terms of the Mortgage. Mortgage brokers usually have someone who can do this for you with ease.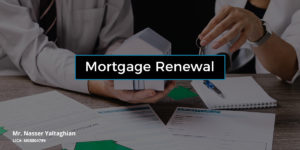 Once you have decided what you expect out of the renewal, you need to confirm whether there are going to be penalty costs if you terminate the mortgage with your current lender. Depending on how much you will be incurring or saving, you can decide whether you want to negotiate terms with the current lender or another one.
The next step is to do your market research. Most Canadians prefer going to a broker as they already have their research done and can help you finalize on a plan which is most beneficial. The plan once finalized, needs to be drafted, checked and signed.
The renewal process is simple if you do your market research or have the expert do it for you.