There are many steps involved in getting a residential mortgage. We've put together a few things to keep in mind while applying for a residential mortgage in Richmond Hill
The Mortgage Centre
There are many steps involved in getting a residential mortgage. We've put together a few things to keep in mind while applying for a residential mortgage in Richmond Hill
Mortgages on its own are quite daunting. Add to that the pre-approvals and the document collection, and most of us are out of our depths. The process has a lot of twists and turns which may be hard for a beginner to understand.
For this purpose, we have put together a list of things to keep in mind and to have ready while searching for your perfect mortgage. They are:
 Keep all legal documents at hand
 Plan your budget
 Start early
 Understand the market rates
 Hire a mortgage broker
The mortgage process does require you to have all your documents ready. From financial statements to proof of income, these documents help verify whether you will be able to repay the mortgage. Keeping this ready and in hand can help a lender quickly assess what they are ready to offer you, considerably speeding up the process.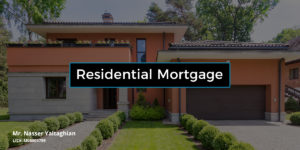 Another important thing to remember while searching for your mortgage is to plan a budget beforehand. Assessing your finances and then searching for a residential mortgage can save you a lot of time and help you understand your situation better. It also helps keep your expenses in check.
The key to getting the best of anything is to start early. Scouting the market from a good head start can help you take advantage of the right rates and plans when they surface. It may also help you build your credit score and do any necessary steps in the right time frame. Understanding market rates is another step to consider seriously. The market rates tend to fluctuate. Keeping an eye out for lower rates can help you save a lot on your mortgage expenses.
Everything mentioned above can be done, my mortgage specialist or broker. Hiring them can not only help you save time but also gives you a wider range of choices. Most mortgage seekers in Mississauga believe this is the first step to a successful experience.